Queens Personal Injury Lawyer
Accidents can happen to anyone anywhere. When you have suffered harm due to another's negligence, misconduct, or recklessness, then you need a Queens personal injury lawyer with an exemplary reputation representing you. The liable party's insurance company must pay damages to the injured victim to cover their medical bills, ongoing medical expenses, lost wages, and their pain and suffering. A successful personal injury case requires extensive knowledge of the process, the law, and experience conducting investigations. If an accident has negatively impacted your life, or a loved one, then Isaacson, Schiowitz & Korson will fight for your compensation and justice.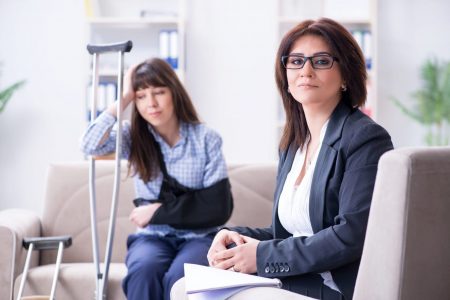 Types of Personal Injury Cases
You need an attorney working with you early on to watch out for your interests and protect you. There are some specific personal injury cases that our team handles including:
Medical Malpractice
When your healthcare provider fails to meet the standard of medical practice, then their negligence can result in serious injuries or death. When our Queens personal injury attorneys accept your case, we consult with leading medical experts and, if necessary, bring them in to testify on your behalf. Whether your physician has failed to correctly diagnose an issue, made a surgical error, or failure to provide adequate treatment, Isaacson, Schiowitz & Korson can help victims of medical malpractice. We fight for your rights so that you can focus on your health.
Nursing Home Negligence
If you have noticed that a loved one exhibits signs of anxiety, depression, or other behavioral changes such as withdrawal or reticence to speak when certain staff members are around, then these may be signs that they are experiencing abuse in their nursing home. Other common signs of neglect and abuse include:
Lapses in medication

Theft of personal property

Dehydration

Frequent falls leading to fractures

Identity theft

Unexplained cuts and bruises
Products Liability
Product liability cases fall into three categories:
Dangerous product design

Manufacturer mistakes

Failure to provide adequate warning or instruction
With defectively designed products, even if they are manufactured or used properly they will still be dangerous. Manufacturer mistakes, by contrast, occur when products are designed properly but something happened in the manufacturing process that caused one product or a batch of products to be flawed. A failure to warn claim can arise when a product is dangerous in a way that is not obvious to the user, such as a drug that is dispensed from a pharmacy or sold in stores without a warning that it causes serious side effects if taken in combination with other commonly-used drugs, such as aspirin.
Civil Rights
If you believe that you were a victim of a civil rights violation that resulted in severe injuries or harm, then Isaacson, Schiowitz & Korson may be able to help you file a civil rights claim against the perpetrators. Examples of civil rights violations that we represent include: 
Discrimination

Hate crimes

Police misconduct and brutality

Racial profiling

Unlawful arrests

Wrongful convictions
Wrongful Death
When negligence or misconduct causes another's death, a wrongful death lawsuit can be filed by the survivors of the victim. At Isaacson, Schiowitz & Korson we fight for the decedent's justice and help your family get through this devastating time. The unexpected loss and shock of the loved one's death cause emotional pain and financial difficulty. However, receiving financial compensation from the liable party may help to alleviate the financial burden and cover costs related to the death such as the burial, any medical expenses the decedent incurred before their untimely death, and the loss of their income. We represent families that have lost a loved one due to car or pedestrian accidents, consumer product defects, workplace accidents, medical malpractice, and other types of accidents or misconduct.
Motorcycle Accidents
Motorcycle accidents usually leave victims with debilitating injuries that then result in expensive medical bills, lost wages, and much pain and suffering. Drivers of passenger vehicles and trucks may not always see motorcyclists in their blind spots before changing lanes or making turns, causing motorcycle accidents. Motorcycle accidents are also caused by drunk drivers when motorists fail to use turn signals and speeding. Motorcyclists should never leave between lanes, also known as white lining because it increases the chances of getting in an accident.
Construction Accidents
State and federal regulations are in place to protect employees and visitors at construction sites. Employer negligence, willful misconduct or employee irresponsibility can lead to injuries on a construction site that affect the worker's health and career for the rest of their life.
Motor Vehicle Accidents
Car accidents are some of the most common types of personal injury cases. You should hire a Queens personal injury lawyer whether you suffered minor injuries, such as whiplash, or suffered extensive or permanent injuries. Isaacson, Schiowitz & Korson has many years of experience representing clients in front of car insurance companies who are more interested in saving their bottom line than they are and paying what victims deserve. Our Queens personal injury attorneys also represent clients who have been injured in truck accidents, multi-vehicle accidents, and pedestrian accidents.
Municipal Liability
Municipalities owe a duty to residents and visitors to be safe when using streets, sidewalks, public transportation, public parks when going into government buildings or schools or traveling on highways. Inadequate guard rails, large potholes, and defective traffic signals can lead to accidents that could then lead to a municipal liability claim.
Slip and Fall
Slip and fall accidents usually occur because of negligence on the part of the property owner. Slips and falls may occur due to:
Inadequate signage or poor placement of signage indicating wet spots

Failure to maintain a sidewalk or parking garage

Poor lighting

Failure to keep walkways clear has it as objects
What are serious personal injuries?
The most serious personal injuries occur when a victim suffers from a long-term disability or permanent disfigurement due to the accident. They may require several surgeries in order to fully or partially recover. They include but are not limited to:
Burns

Neurological and muscular injuries

Spine and spinal cord injuries

Wrongful death

Bone fractures

Brain injuries

Injuries that result in permanent organ damage

Permanent or temporary paralysis

Amputations

Infections from complications
Damages Available For Personal Injuries
The two types of damages that are awarded in personal injury cases are economic damages and non-economic damages. Economic damages compensate victims for the financial losses that they have incurred as a result of the accident. Among them include medical bills, lost wages, transportation costs if the accident requires them to travel to specific hospitals for surgeries, child care, and future lost earning capacity. These are calculated by looking at your medical bills, your wage or salary information provided by your employer, any bills from the body shop or an appraisal on your car, and other invoices related to your accident and recovery.
On the other hand, non-economic damages cannot be calculated easily. Non-economic damages compensate you for the emotional distress, pain, and suffering that you have endured as a result of your accident. The law recognizes that a person may never feel whole again after their accident especially if their injuries led to a loss of an organ function, physically incapacitated them, or otherwise prevent them from pursuing activities in life that they love. We are here to help you get all that you deserve.
How An Attorney Can Help You
Although you do not need to hire an attorney to file a personal injury claim, the benefits of doing so far outweigh any possible negatives. Your initial consultation with Isaacson, Schiowitz & Korson, LLP is free. We begin investigating your claim immediately by gathering evidence, talking to any witnesses, and collecting testimonies from expert witnesses, professionals, and fields such as medicine and engineering who can give insight on your injuries or how the accident occurred. Most importantly, you have someone on your side who is advocating on your behalf. The insurance companies will have their own team of lawyers, so you should have legal representation for yourself. 
Call Isaacson, Schiowitz & Korson, LLP now at (212) 267-6557 to speak with a personal injury attorney in Queens. Your initial consultation with one of our Queens personal injury attorneys is free. We strongly advise that you bring your medical records, medical bills, and any documentation related to your accident such as photos taken at the scene of the accident, a police report, or incident report. We get to work immediately on your case so that you can move on with your life sooner. Trusted by the Queens community for decades, we have the experience and successful track record you can count on.